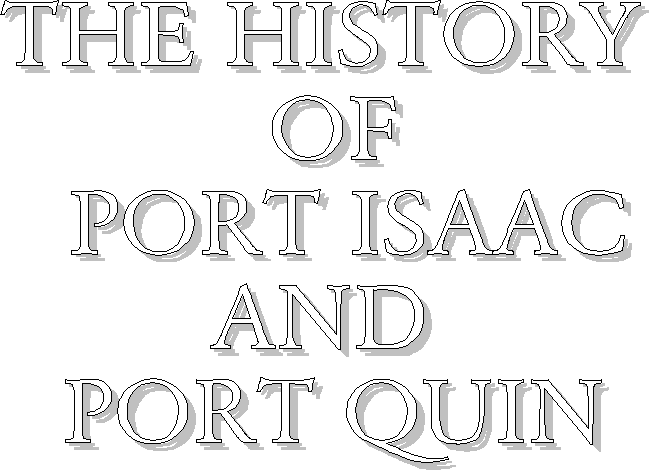 The History of Port Isaac and Port Quin
by
Dr. Frederick Trevan
1833-1834
being a faithful copy
of a typescript
in the Cornish Studies Library
at the Cornwall Centre
Redruth, Cornwall
copied by
Jonathan Remick Richards
January 1994
and incorporating
a comprehensive index
of personal names
THE HISTORY OF PORT ISAAC AND PORT QUIN
[in ms] by Dr. Frederick Trevan. 1833-34
Inhabitants of St. Endellion Parish
| | |
| --- | --- |
| APPS, Josiah | Seaman. Family in Endellion for several generations. Widower. Married Mary Ann Lark. |
| APPS, Thomas | Seaman. Brother to above. Widower. Married Elizabeth Bosankoe. Several children. Dispersed. |
| APPS, William | Seaman and shoemaker. Son of above Thomas. Married Mary Key. Several children. Total family seven. |
| ADAMS, Henry. | Keeps Mumper's Lodgings. Father originally of Bodmin. Widower. Married Elizabeth Mutton of St. Teath. No family. |
| ADAMS, John | Brother of above. Married Polly Buller of Endellion whose family is extinct. Two sons Masons in the West. One shoemaker in Nova Scotia whose wife at present resides with Henry Adams. A son is a Mason living at home; also a daughter. The son is a proper fool and tool to Methodist miscreance. The daughter has a child by an old lame miscreant of a Baptist preacher called Bourroughs. Jack is fond of a tipple. His wife, Polly, being a queer kind of woman hunts him out of the Public Houses, differs with him sadly and frequently exclaims "My dear Jack Strivey, must my poker fly". Jack's sister, Polly, lived to the age of fifty years but never attained to more than three in light. Dead several years. Jack has five houses in the town. |
| BATE, William | Mason from St. Teath. Married Jane Hicks from Michaelston. Twelve in house. Large family. |
| BATE, John | Tailor. Keeps Bristol Inn. Brother of above. Married Mary Hodge of St. Teath. No family. |
| BROWN, Jos | Husbandman. Married Ann May. Family. Total 6. |
| BROWN, Samuel | Shoemaker. Unmarried. |
| BLAKE, John R. | Married Hannah Wite of Trellil in St. Kew. Family. Total five in house. |
| BLAKE, Nicholas | Pensioner and husbandman. Married Jane Long of Porthquin. |
| BROAD, Robert | Husbandman and butcher. Married Susan Hambly. One child. |
| BROKENSHIRE, Edw. | Cooper from Mevagissey. Widower. Married Mary Barrett. |
| BISHOP, Jane | Widow. Daughter of late Thomas Trefry of this place. One daughter. |
| BARRETT, John | Seaman. Last of an old Portissick family. When a young man of sixty years since hid his head and shoulders in a badger hole at Tresungers to escape pregnancy. Married Elizabeth Alford. Had a family. |
| | [Here follows a line sketch of Tresungers, reproduced in photocopy in the Appendix] |
| BULLEN, Mr. | Superannuated Officer of Excise. Family. Total 6 in house. |
| BILLING, Samuel | Gent. Formerly Master of vessel and kept Dolphin Inn. First of family at Port Isaac a Quaker. Married (i) Elizabeth Stribley who kept Dolphin. Had five children four of whom are dead. Married (ii) Pheobe Worth. Four children. Thomas Master of a vessel. John ditto James a farmer, and Eliza. (None of second brood married. |
| BILLING, Pascoe | Late Master. Surviving son of above. As intrepid a seaman as ever stepped adeck. Carried supplies to Spain in wartime. Married Betsy Wood. One son, two daughters now grown up. Mrs. Billing Perished in the rigging of coast of Lancashire - battered to death. Crew saved. |
| BILLING, Samuel | Shipwright. Brother to foregoing. Married Mary Worden. Four sons. Two daughters. |
| BILLING, William | Late farmer and preventive boatman. Married Sarah Guy of Roscarrock. Four sons dispersed. |
| BUNT, Mich. | Seaman. Has mother and two unmarried sisters. Married Betsy.......... of Falmouth. Family. 8 in house. |
| BROWN, Edward | Seaman. Married Bridgwater woman. Four in family. |
| BROWN, Catherine | Mother of above. Was a daughter of E. Haynes. |
| BUNT, Mary | Old spinster. Reputed a witch. |
| COCK, John | Gent. Old family proprietors of Trefreock. Is first cousin to late Ford and John Cock (latter an attorney) that have almost spent and sold all their possessions in the parish etc. He has himself from £800 to £1000 per annum left him by his father and uncle, a Mr. Farnham of Launceston, which he has spent. He is now supported by a legacy left by above John, the attorney, out of residue of their property. Mr. Cock has kept a woman, Nancy Apps, for many years by whom he has a large family. |
| COCK, Joan | Kept Golden Lion. Widow late Richard Caesar Cock, uncle of above. |
| COCK, Catherine | Old spinster of Simonward. |
| CLOAD, Elizabeth | Spinster. Daughter of former Officer of Customs at this creak and sister to Mrs. John Cock of this place. |
| CHALK, Thomas | Seaman originally from Bodmin. Married Nancy Laury of St Mawes. Has Large family. Has a brother lately put home to Bodmin being blind. Has a son William residing here. Six in family. |
| CARTER, Phillip | Cooper from Boscastle. Married Sally........ of St. Teath. His late brother, Thomas, married a daughter to Mr. Billing and carried on a great business here in coopering and shop-keeping. Had a large family. None in parish. |
| COUCH, Charles | Fisherman, originally of St. Kew. First came as a Hog dealer. Likewise Master Seaman to "Good Intent". Pilchard seaman for several years. Married Honor Phillips by whom he has ten children, mostly dispersed. Total five in house. |
| COUCH, C | Master Mariner of the "Affo" in employ of Rosevear & Sloggett at Boscastle. Married his cousin, Mary, daughter of Humphry Phillips. Three children. |
| COUCH, Samuel | (Late). Seaman. Died about two years since. Left a widow, daughter to Jane Bishop, with many children. Six in house. Was an excellent seaman. |
| COUCH, Nicholas | Master of "Jane" in employ of Rosevear & Sloggett of Boscastle. Married Tamsen Medlen of St. Teath. Four children. |
| CLEMENTS, Richard | (Late) Husbandman. Queer fellow attached in last war to sea fencible company "rised" here. The officer, Lieutenant Jullian, latter put a "thumb beam" of straw round one leg and of hay round other to distinguish it from left. Married Elizabeth Skinner. Five children. |
| CLEMENTS, William | Husbandman, son of above. Married Mary........of St. Blazey. Large family. Five in house. |
| CORNISH, Eliz. | Widow. Daughter late Mr. William Roose of Tregavern. Twice married. (i) Richard Moorman had one son. (ii) William Cornish. Has lease of two tenements, Tonyshill, and one at Trewetha, altogether £40 per annum. She does nothing whatever or ever did for her son. Supposed to spend all in drink. Got her property through her mother's friend called Wright |
| DARLEY, Richard | Dealer in turnip seed, mineral specimens and in Free Trade system. Originally from St. Twindles. Married Jane, daughter of Henry Mabley of Lower Trefreock. No children. |
| DAVEY, William Mr. | Schoolmaster from St. Neots. Married daughter of Simmons of Polshea in St. Tudy. Four children. |
| EPIELET, James | Husbandman from St. Teath. Formerly a marine but ran away. Married Elizabeth ........of St. Merryn. Three in house. |
| FRENCH, John | Seaman. Originally of Tintagel. Latterly of Padstow. A good seaman but frequently gives his family the slip for years. Married Mary May. Three children. |
| GUMMOW, William | Mason from St. Columb Minor. Married Mary Crabb. One son Isaac, a Mason who officiates as a Baptist preacher. |
| GRAY, Sally Miss | Daughter of Mrs. Cocks of Golden Lion Inn, by a former husband. |
| GREEN, William | Fisherman and husbandman. Bachelor. |
| HOSKIN, Thomas | Master Mariner of smack "Samuel and Elizabeth", himself half owner. Originally of Mevagissey. Married Eliz. Phillips. Family of twelve children. |
| HAMBLY, Richard | Husbandman from Port Quin. Married Eliz. Corvek of Egloshayle. Three children. |
| HAMBLY, William | Husbandman. Son of above. Married Fanny........ of Norton, near Oakhampton. Had three children, one of which fell over cliff at Pigeon Gorge in search of gull's eggs and was drowned, about two years since. |
| HAMBLY, John | Little farmer. Brother of above Richard. Married (i) Peggy Lakeman by whom he had a family. (ii) Chesten Buller. No family. He had a lease of tenement called Greenpipes and a house in Port Isaac by his first wife, part of a lease of Bullers tenement at Trewether and a house and land in Port Isaac. |
| HICKS, Nicholas | (Late). Miner from St. Neots. Married Ann Nichols of Lower Trefreock. Left six children. |
| HILL, Samuel | Blacksmith from Trelights. Married Hannah Apps. Eight in house. |
| ALFORD, William | Husbandman. Family in parish many generations. Married Ann Bishop. Has family. Four in house. |
| HOCKEN, William | Husbandman. Called "Soldier Hocken". Hocken has emigrated to Pennsylvania with three of his sons. Left his wife, an Irish woman, at home for want of the money to take her out with five children. She is anxious to join him but parish won't assist. |
| HOCKEN, Mark | Husbandman and fisherman. cousin to above. Married Mary Long. Family. Seven in house. |
| HAYNES, Edward | Fisherman. Originally of St. Ginnis. Married Rebecca Lakeman. Lives with granddaughter. |
| HAYNES, William | Son of above. Married Eliz. Barret. Five children. |
| HIGGS, Jonathan | Blacksmith. Married Ann Kendel. Family. Seven in house. |
| JEFFERY, William | Shoemaker from St. Kew. Single. |
| KEY, John | Carpenter from St. Merryn. Widower. Two children. |
| KEY, Phillip | Carpenter. Son of above. Married Ann Brown. Family. Six in house. |
| KELLOW, Ralph | Farmer from St. Teath. Married Charity Phillips. Family. Six in house. |
| KELLOW, Henry | Husbandman. Brother to above. Widower. Married Eliz. Buller who brought him lease of part of Bullers tenement at Trewether and house and land at Port Isaac. |
| LARK, William | Carpenter of Port Quin. Originally there for many generations. Married Cath. Richards. Family. Three in house. |
| LARK, John | Carpenter. Son of above. Married Jane Lobb of Pendoggett in St. Kew. Family. Seven in house. |
| LOBB, Nathan | Miller. Married Grace Wotton. Family. Two in house. |
| LOBB, Nathan | Mason. Son of above. Has brother Richard single also. |
| LOBB, Jos. | Miner. Married Eliza Brown. Family. Seven in house. |
| LETHROW, William | Seaman. Originally of Clovelly. In 1807 had a small cutter of his own called the "Sprightly". 20 tons. Smuggler. Returning from Ireland on one of these Free Trade expeditions caught in a gale, vessel lost ground on every tack, not able to weather the Castle Rock at Port Gavern, resolved to risk all for all. It being high water passed through the gut or opening between outer rock and the main at Port Gavern to admiration and joy of all who beheld it. Married Susannah Lark. Had a family. Three in house. |
| MILLER, Henry | Carpenter. His father nicknamed "The Chopper". Originally of Tintagel. Bachelor. |
| MAY, John | Seaman. A real husky old dog. Married Ann Murcombe. One son. Three daughters. |
| MAY, Thomas | Master of sloop "Hope". Son of above. Married Ann Bate. Family. Seven in house. |
| MAYOR, Mr. | An old Cockney gent. Resided here for 4-5 years past. Married. Have a lad. With this family came Bourroughs, the old scamping Baptist Preacher who got John Adams daughter with child. |
| MASTERS, Thomas | Husbandman. Married Florence Orchard. Originally of Boscastle. Family. Five in house. |
| MASTERS, John | Husbandman. Married Ann Pollard of Amble family. Eight in house. |
| MASTERS, Abraham | Fisherman. Brother to two above. Married Phillippa Hender, daughter to a former schoolmaster here. Originally from Milbrook. No family. |
| | The Masters have two sisters, Grace and Elizabeth, both single, residing here. |
| MARTYN, James | Husbandman from Tintagel. Married Ann Prideaux. A family. Four in house. |
| MARTYN, Honor | (An old Virgin by repute). Eccentric funny old dam. Attended to the coal business of Mrs. Richards. |
| | This page has a line sketch of Honor Martyn, for a copy of which, see the appendix] |
| MITCHELL, Charity | Widow of John Mitchell. She is grand-daughter to Mr. Billing, the Quaker, a very respectable merchant formerly of this place. |
| MITCHELL, Robert | Carpenter, son of above. Married Catherine Trefry. Family. Seven in house. |
| MITCHELL, Thomas | (Late) Seaman. Brother of above. Married Alice Bate. Left large family. Nine in house. |
| MITCHELL, Stephen | Fisherman, originally blacksmith from Davidston. Married Mary Bishop. Three children. Mary's sister lives with her. |
| MITCHELL, Stephen | Son of above. Married Caroline Mutton, base child to Nan Mutton. One child. |
| MUTTON, Thomas | Husbandman. Is a base child to Nan Mutton. Married to Peggy Hambly, daughter of John Hambly. One child. |
| MURRISH, John | Miner (not native). Married Mary Steer. Four children. |
| MOORMAN, Richard | Fisherman. Son of Elizabeth Cornish by a former husband. She behaves ill and without reason to her son having £50 per annum and will not assist him in the least. Married Ann Chalk. Two children. |
| MAUNDER, John | Shoemaker from Tintagel. Grandson to John Barratt. Married Ann ........of Mevagissey. No children. |
| MURCOMBE, Antony | Husbandman. Very ancient family in Port Isaac. Predecessors mostly shoemakers and people of property in houses and fields. Married Mary Brown. Two children living. |
| MURCOMBE, William | Single. Brother of above. Resides with him. Not very wise. |
| NICHOLS, Jane | Her husband, John, lately emigrated to Honesdale Whyma County America with his son, Thomas, and Son's family. |
| OTEN, William | Carpenter. Married Susanna Miller. Three children. |
| OTEN, Antony | Husbandman and seaman. Brother of above. Married Eliz. Apps. Family. Seven in house. |
| OLD, John | Husbandman, commonly called the "Crackey Old". Married Cath. Steer, a widow. Both have had large families by former marriages. |
| OLD, Humphry | Seaman. Brother of above. Married Nanny Chalk. No children. |
| OLD, Annis | Sister. Has resided several years with John Prideaux by whom has several children. |
| OLD, John | Husbandman. Son to Annis. Married Jane Hambly of Port Quin. Large family. Eleven in house. |
| ORCHARD, Ann | From Boscastle. Has had two base children. Three in house. |
| OLVER, William | Husbandman from St Minver. He drove a post chaise at Truro and Devonport for many years. Three children. |
| OLVER, William | Son of above. Married, family. Five in house. |
| ORAH, William | Husbandman. As awkward and ugly a fellow as ever was seen. From St. Teath. Married Eliz. Inch. One child. Great propensity for music and drawing. Has run off and left his family for this some time past. |
| PROUT, Warwick Guy | Schoolmaster. Family originally of this parish. Latterly from Devonport. Transported seven years for robbing bank at Devonport where he was clerk. Married a Devonport woman. No family. |
| PHILLIPS, Charles Mr. | Farmer and butcher. Widower. Married Susan Watts, daughter of John Watts, Merchant, of this place. Has decent property |
| PHILLIPS, Thomas | Master Mariner. Brother of above. Married Catherine Salter of Boscastle, a woman universally detested, by whom has two girls, Louisa and Rachel. Former married George Brown, Master Mariner at Padstow. |
| PHILLIPS, Humphry | Farmer. Widower. Cousin to above. Married (i) Mary Harris of Mevagissey by whom had two daughters, one since dead. (ii) Elizab. Male. No family. |
| PHILLIPS, William | Master Mariner. Brother of above. Married Susan Howard. Five children. |
| PHILLIPS, John | Fisherman and farmer and slater packer on vessels at Port Gavern. Brother to above. Married Mary Worth. Large family. Eight in house |
| | The Phillips have a single sister, servant to Mr. Trevan, named Mary, where she has been 30 years |
| PRIDEAUX, John | Town Crier of Carrgreen, near Saltash. Lives with Annis Old. Had a family by her. |
| | [Here follows a line sketch of John Prideaux, for a photocopy, see appendix] |
| ROWE, Ann | Widow. Daughter of Elizab. Clements. Married a preventive boatman who was drowned off coast of Ireland. Allowed a pension. Two daughters. |
| RICHARDS, Valentine | Master Mariner. Family long in Port Isaac. Mostly Masters of vessels. Married Jane Roose of Tregavern. One boy. One girl. |
| RICHARDS, William | Master Mariner. Widower. Brother of above. Married Jane Alford. Got property –£1200 by her – left to her by an aunt, Mrs. Garland of Pendannon in this parish, but has spent the whole. Children, Ann, (since dead), Elizabeth, Mary, Justinian, Powel, Francis and John. All sons seamen except Justinian. |
| RICHARDS, Justinian | Husbandman. Widower. Married Peggy Gill of Bodmin. Five children. Four in house. |
| RICHARDS, Mrs. Ann | Widow of late Captain Francis R. Daughter of Guy of Roscarrock. Removed to Trewint. |
| | The above Captain Richards had a mother-in-law residing here. Originally of Lelant. |
| ROW, Polly | Husband emigrated to Pennsylvania some years since. |
| RIMICK, Thomas | Farmer. Family here for many generations. Mostly little farmers. Married Ann Buller. One son. |
| RIMICK, Jonathan | Carpenter. Son of above. Married Eliza Nichols of St. Mary's, Scilly. Two children. |
| SHORT, John | Seaman. Originally of Ilfracombe. Married Sall Clements, daughter of Dick beforementioned. |
| STROUT, James | Shoemaker and fisherman. The Strouts came from near Wadebridge. His father, a farmer, rented Tregear in St. Kew and Cocks Tregavern in Endellion. Built inn at Port Gavern. Kept it and then spent all he had. Married Joan Steer. No family. |
| STROUT, William | Master Mariner. Brother to James. A good merry old toper. Married Thomasin Lark. Seven children. |
| STROUT, John | Son to William. Married Mary Eplett. One child. |
| STROUT, Mary | Widow of late Digory Strout. Relative of foregoing. Several children all grown up. Mostly dispersed, except Digory and Charity who are single. |
| STEPHENS, James | Shopkeeper from Mevagissey, father being gardener to J. H. Tremayne, Heligan. Married Betsy, daughter of the late Mr. J. George of Pennant in Endellion. One daughter. |
| SOPER, William | Shopkeeper from Trecugoe St. Kew. Married his cousin Grace, daughter of Mr. S. Worden of Tresungers. No children. |
| SIBLY, James and Eliz. | Son and daughter of Mr. James Sibly, a mine captain from St. Neots. James is a tailor and Eliz. a dressmaker. She is very beautiful and what is more, rare clever possessing every virtue and goodness that adorns the female character. Both single. |
| SKINNER, Eliz. | Widow of Richard. Three children |
| SKINNER, John | Mason. Son of above. Married Sally Steer. No children |
| SKINNER, William | Carpenter. Brother of above. Married Ann Strout of Port Gavern. Five children |
| STEER, Sally | Sister to Thomas Rimick. Widow of William S. Many children |
| STEER, William | Commonly called Bibby. Son to Sally. Resided with Kitty Taylor by whom have one daughter. |
| STEER, Mary | Sister to William. Has many base children. |
| STEER, Christanamiah | Widow George S. He was drowned in sloop Francis (on passage from Wales to Port Isaac) of which he was Master. Foundered of Ilfracombe with all hands. About 30 years since. Several children mostly dispersed. |
| STEER, Jude | Daughter of foregoing. Has a base child, Mary Ann, by late Mr. John Arnold, schoolmaster of this place. |
| SMITH, Thomas | Fish carrier. Base child to a Susan Smith. Family of Smiths settled here for great many years. Married Phillippa Long. Large family. Ten in house. |
| SEYMOUR, Eliz. | Widow Sergeant Seymour of Royal Marines, a very valiant fellow. No family by him but two daughters by Mr. Richard Wood, a former husband. |
| STRONGMAN, James | Miner from.................... Married Elizab. Brown. Six children. |
| THOMAS, John | Husbandman. Married Grace.................... of Stratton. Three children. |
| THOMAS, George | Seaman. Family of long standing at Trewetha. Married Mary Ann Apps, daughter of Thomas Apps. Seven children. |
| THOMAS, William | Master Mariner. Ancient family in this parish. good property left him by his uncle, Captain Miller. Little now remains. Married Ann Rawlings of Padstow. Four children, grown up - Nicholas, William, Betsy, Mary. |
| TEAGUE, Richard | Husbandman and sheep farrier. Originally of St. Teath. Noted smuggler up to every pursuit. Went to drag river at Trehannick in St. Teath for salmon. Heard a person approach. Hid under bridge, but seen. The person dismounted, leaned over bridge and said "You damned rascal. I have caught you at last" when Teague snatched hold of his collar, dragged him headlong into the river and ducked and beat him unmercifully before letting him go. Married Catherine Brown of St. Teath. Large family but dispersed. |
| TURNER, Jas. | Tailor from Pelynt. Married Catherine Steer. Many children. Eight in house. |
| TABB, Gregory | Tailor. Originally family of St Eval. Married Eliz. French. Three children. Gregory's Mother lives with them. Maiden name Eliz. Prestinage of this place. |
| TRESIDER, Peggy Mr. (sic) | Widow of, but first servant of, the late Curate of this parish. They are originally of Penzance. The parson was a very small awkward, ricketty, bandy-legged man as was almost ever seen. He has left two sons. |
| TAYLOR, Kitty | Resides with William Steer by whom she has had one daughter. |
| TREVAN, Mr. John Archer | Principal Coast Officer of H.M. Customs at this port. Originally of Plymouth. Married Ann, daughter of late Mr. John Watts of this place Merchant. Ten children. Six in house. |
| TREVAN, Fredk. | Surgeon son to above. Unmarried. |
| WATTS, Mr. John | Originally of Devonport. Then of St. Teath. The last representative of the family. Two in house. |
| WORTH, John | Seaman. Bachelor. Ancient family. Last of his name in the place. Plain, honest, good kind of man, rather hard of hearing. Quided boys, i.e. punished them by stuffing his quid of tobacco into their mouths and held it there for a time. Great sport to other boys looking on. |
Endellion
Tenements and estates
Hunpark, formerly the Cheney's, then John Hunt, then Kekewich bought off them by Watts whose son John is present proprietor. Now on lease to Thomas Rimick.
Zebus's Tenement Cheney's now Thomas Phillips. Tenants Frederick and Ralph Kellow
Port Isaac Mills. Now Earl Fortescue's., Mr. Billings, Mr. Carlyon, Mr. Boden and Mrs. Glanville.
Tony's Hill Cheney's. Now Earl Fortescue's. On lease to Eliz. Cornish. Tenant Charles Phillips.
Miller's Hills Cheney's. To Mr. Miller who gave it in moieties to Captain W. Thomas and Mrs. Bowden of Antony. Latter purchased Thomas's moiety. Tenanted by Mr. Roose of Tregavern.
Abrahams Tenement Cheney's – in moieties between Cocks and Bidefords. Tenant Mr. J. Billing.
Philp's Hills or Cann's Cheney's. Now Philp's of Pendogett. Tenant Thomas Hoskin.
Gonney Tenement. Now Earl Fortescue's on lease to Eliz. Tabb. Tenant Ralph Kellow.
Mains Tenement Cheney's. Now Richard Roose's of Castlegoo, near Camelford. Tenant J. Skinner of Trewethers.
Fourgates Tenement Cheney's. Now Earl Fortescue's. Tenant Hump. Phillipps.
Porth Karn Hun signifies in old Cornish Port of Rocky Haven now commonly called Port Gavern. Small unsafe cove where principal business of parish carried on chiefly in slate – 3000 to 4000 tons annually. Shipped from Delaboe. Pilchards cured here. Land around belongs to Earl Fortescue, Mr. Guy of Roscarrock, late Mr. Cock and Mr. Edward Richards, the latter of which keeps the inn.
| | |
| --- | --- |
| Inhabitants | Number in family |
| Captain Edward Richards | 9 |
| Digory Strout | 6 |
| Betsy Lobb, widow | 7 |
| John Lobb | 7 |
| John Inch | 6 |
Tregavern, late Cocks, then Cann's, then their descendants, the Cocks, by whom sold to Earl Fortescue.
Miss Ann Cann above 90 years since reported to have died and was buried near pulpit in chancel. On opening grave in 1826 for interment of Mr John Cock, her coffin found entire but on opening, no remains of human being found but filled with common red earth being quite different soil to that surrounding it. Some old people now alive remember an old woman, Betty Long, who was servant to Miss Cann, who used to say "Well, it is a very wonderful thing about Ann Cann, but it will come out one day." No one then could imagine what she meant. It appeared she was in the secret but she could never be induced to tell what it was and still it so remains. She was not in debt but living in good circumstances. Her tombstone still remains over the grave. Tenanted by Mr. John Brown.
Tregavern Rooses. 23 acres. Tenanted by them since William the Conqueror!!!
Hendra Cheneys, then Hender's, then Amy's who sold it to Mr. Pearce, father of present occupier, only part of estate in Endellion parish.
Trewethert Cheney's, many years ago Henwood's whose descendants respectable farmers at St. Teath purchased by Brown of Treore, given to nephew Abraham Hambly whose son now has it. Tenant Mr. Thomas Bishop. 160 acres.
St. Illick Cheneys. Here their family chapel was situated, taken down about 30 years since a burying ground attached thereto carried out for manure great numbers of human bones were thrown out but afterwards carried to the churchyard at Endellion and there buried.
A pretty little tenement now Earl Fortescue's on lease to F.B. Hambly. Tenant T. Bishop. House occupied by labourer Henry Masters.
Treora the Manor Cheney's now Earl Fortescue's now leased to Francis Brown Hambly. Tenant Thomas Bishop. Said that Mr. Bishop gives F.B.H. 400 guineas a year for those three above places. Mr. Bishop married Miss Pearse of Hallwall, near Camelford. Ten children.
Bodannan. Residence of Cheney's now Edward Phillip Lyne's who inherited it from grandfather Reverend Ph. Lyne D.D. Tenant Mr. Guy of Roscarrock.
Colsenton: Two fields originally belonged to Bodannan in one of which house occupied by Cheney's stood appears to have been a quadrangular building enclosing court with two square embattled towers in front. Illustration on page [27] taken from ancient line engraving by Leland in possession of a gentleman at Liskeard. It was taken down beginning of 16th century. Nothing of it remains. Those fields now property of Mr. Clements of Wadebridge. Tenant Mr. Worden of Tresungers. A few years ago labourers came to an underground cellar and in a recess found a beautiful china jug now in possession of Mr. Clements.
Trewether Village
| | |
| --- | --- |
| Thomas Mutton | 2 in family. |
| John Billing | 3 " " |
| Richard Taylor | 6 " " |
| William Kempthorne | 4 " " |
| Abraham Hambly | 4 " " |
| Richard Apps | 6 " " |
| Susan Thomas | 7 " " |
| John Skinner | 7 " " |
| Richard Tabb | 7 " " |
| Francis Taylor | 4 " " |
| John Knight | 4 " " |
Around Trewether
Warns Tenement owned by Guy of Roscarrock
Undertown belongs to Earl Fortescue. Tenant Humphry Phillips.
Brown's Tenement. Earl Fortescue on lease to Elizabeth Cornish. Tenant Charles Phillips and Richard Tabb.
Buller's Tenement. Earl Fortescue's on lease to Thomas Rimick, John Hambly and Henry Kellow.
Phillipp's Hills. Belongs to Mr. Charles Phillips whose father bought it off Captain Miller, late of Port Isaac.
Barn Park Tenement. Now belongs to Trevan family, executors of late John Watt.
Houses in village of Trewether belong to Earl Fortescue, Mr. Thomas Bishop of Treore, Mr. Richard Roose of Castlegoo and executors of W. Billing.
Polworgy. Now Lord de Dunstanville's. Farmed by Mr. Samuel Worden of Tresungers who keeps a hind John Honey on the place.
Tresungers illustrated as it was a few years since, build with material of Bodannan by a Mr. Matthews in 1666 from whom it is said to have passed to Vyvyan family of Trelowarren, some part of which resided here, likewise residence of Sir John Dalrymple, Bart., of Cranston who left during troubles of Scotland 1745. From thence to family of Author by purchase whose descendant, Mrs. Weman, inherited it. Farmed by Mr. Samuel Worden for upwards of half century. Mr. Worden originally of Kew. Married Mary Calaway of St. Kew. Large family.
Penant. Formerly property of Row's of the Roman Catholic persuasion. Property purchased out of Chancery by George's of this parish. In their family it remains on lease for 999 years. Mr. John George married Miss West of Lanow in St. Kew. One Son.
Glebe Church etc.
Glebe held in four different parts:
1st the Rector's – Reverend William Hocking.
2nd to provide clergyman to serve Lanhydrock - Reverend Jos. Fayner.
3rd and 4th Lay impropriators - Messrs. F.B. Hambly and Richardson Gray.
In south aisle of church elaborate tomb traditionally to a butler of the Roscarrock family. No inscription. ? Pincorna.
In the ends of seats within the church are several armorial bearings.
On the floor under the north aisle is the under arms to the wife and daughter to Thomas Baddon who departed this life in the year 1723. Mr. Baddon came into this neighbourhood as manager of Penvenna Mine in St. Kew. His wife was Miss Cann of the parish. In lead coffin in NE corner of north aisle lies Mr. John Hamley, Barrister, formerly proprietor of Trefreock.
Reverend William Hocking inducted about 3 years ago. For a great number of years before service was performed by curate. Mr. Hocking is from Michaelston. Married Mary Male of Trehannock in St. Teath.
Tithes etc. estimated at £800 per annum. Equally divided between before-mentioned clergy and lay impropriators but God knows how long country is going to put up with these extractions. I cannot conceive wherein consists the policy of cherishing so many nests of spiritual and lay leeches who suck the very blood and vitals of the nation. they that support them in it are nothing better than a company of greedy caterpillars, enemies to their fellow subjects and a curse to the prosperity of their country.
Residents Endellion Church Town
| | |
| --- | --- |
| Reverend W Hocking | 4 in family |
| Mr. Richardson Gray, Innkeeper | 5 " " |
| Thomas Brown, Sexton | 2 " " |
| Nich. Alford | 2 " " |
| Mrs. Gray | 2 " " |
| Martha Lobb | 2 " " |
| William Sancoe | 4 " " |
| Edward Brown, commonly called "Purty Harry" | 7 " " |
Higher town. Formerly belonged to Cock family, lately sold, held on lease by Mrs. Joan Cock of Port Isaac and tenanted by:
| | |
| --- | --- |
| William Blake | 3 in family |
| Betsey Hewitt | 5 " " |
Thomas Brown, the Sexton, bought a field or two not long since and paid, it is said, all in new half crowns and shillings.
Trevathen Grays. Owner Digory Gray. Married first cousin, Miss Guy of Roscarrock. One son and daughter.
Trevathen Peters. Originally Robartes of Lanhydroch. Sold several generations ago to the Peters of Harlyn. Mrs. Agar recently purchased it back. Tenant Digory Gray. Farm occupied by Mrs. George and Edward Hawke.
Tolraggatt. Purchased some years ago by Mr. John Collings who made a handsome fortune farming Roserrow in St. Minver in Napoleonic Wars. Left to his only child who married Samuel Symons of Treglines in whose daughter's possession. Her mother died about 2 years ago. Second best estate in the parish. Let for £290 per annum to Mr. William Burton who married Miss Cleare of Trewiggett in St. Kew. Two or three children.
Roswarrow Guys. Present owner Mr. Jonathan Guy. Married cousin Miss Guy of Trevathen. Seven or eight children.
Roswarrow Grays. Mr Guy Gray present possessor. Married Miss .......... of St Breock. Two or three children.
Roswarrow at one time a village, many families residing here.
Trecreege. Commonly called Burrow Park, property of Warwick Guy whose father bought it off Mr. John Wolcock of St. Minver. Farms it himself. Married Miss Coddelia Worden of Tresungers. Three children.
Trencreege Higgs. Property of Mrs. Agar. On lease to Mr. Jonathan Higgs. Married Miss Cory, daughter of Reverend Cory of Egloshayle. No children. Mr. Richard Higgs, bachelor, has house and garden.
Trelights Tenements as follows:
Mr. Warwick George's farm, property of Mrs. Agar. Married Sarah Brown, his cousin. Two children.
A few years ago Richard Inch ploughing in one of these fields adjoining Endellion Lane, the plough suddenly skeered over a flat stone which on being raised, brought to skeleton of lad apparently 16 years of age. All the fields around Endellion Church town are full of graves.
Mr. Richard Higgs of Trecreege small tenement 10 to 12 acres purchased off Mr. John Collings by R.H.
Mr Thomas Collings 10 to 12 acres given him by his uncle, Mr. John Collings. Here at one period stood a fine mansion house said to have belonged to Kirkunes. Several old people now alive remember it well before it was taken down.
| | | | |
| --- | --- | --- | --- |
| William Kellow | 7 in family | Jonathan Brown, (carpenter.) | 4 in family |
| Charles Phillips | 5 " " | Thomas Bishop, (an old pensioner seaman) | 8 " " |
| John Rawbutcher | 6 " " | Thomas Brown | 3 " " |
| Thomas Collings (Tiddly-wink keeper) | 4 " " | Charles Hambly | 5 " " |
| William Kittow | 8 " " | Thomas Cowling | 6 " " |
| John Hicks (shoemaker) | 5 " " | Warwick George (farmer) | 7 " " |
| Jacob Jacob | 4 " " | Thomas Bunt | 5 " " |
| Abraham Hocken | 5 " " | Mary George | 2 " " |
| John Kellow | 3 " " | | |
Trewethick Guys. Originally Roscarrock to Cocks. Recently purchased by Warwick Guy of Tresungers.
Trewethick. F. Granville of Catchfrench owns it. Tenant William Gray.
Trewetheck William Buller's tenement. Property of the Cock family on lease to Buller.
Jacob Jacob's tenement. Property of Cocks.
Inhabitants are: William Gray, farmer, 7 in family
William Buller, shoemaker, 2 in family.
In fact this and Trelights merged into one village.
The Methodist mercenary mendicant harpies have here a shop for plucking the poor bumberkins of their very hard earnings besides their having managed to swindle the people out of their chapel as almost every other through the country.
Trewint. Belonged to Broads. By the last of them sold to Thomas Skinner, shoemaker, whose grandson sold it to Mr. Mary Guy of Roscarrock and by him now farmed. House occupied by Mrs. Richards, widow of Captain Francis Richards and sister to Mr. Guy. Ten in family.
Scarabine. From Roscarrock to Kirkunes who gave it to their descendants, Peters of Philleigh from them purchased by F. Glanville of Catchfrench. Tithe free. Tenanted by George family. Present house built of material from old Trelights house. Miss Symons, granddaughter of late Mr. J. Collings of Tresserrow has two fields.
Porth Quin. In former times the most populous place in the parish. In 1697 disastrous occurrence happened. The herring fishermen caught in a storm almost all perished. More than 20 widows in Porth Quin. After this the village decayed.
Householders in Porth Quin
| | |
| --- | --- |
| John Cock, husbandman | 4 in family |
| Samuel Ellory, " | 3 " " |
| Richard Phillip | 6 " " |
| Francis Hawke, husbandman | 8 " " |
| Polly Blake | 2 " " |
| Thomas Bishop | 7 " " |
| John Giles | 8 " " |
| Edward Keat | 7 " " |
| John Hawke, miller | 4 " " |
| William Brown | 4 " " |
| William Thomas | 2 " " |
| John Chalk | 6 " " |
| William Hambly | 6 " " |
| Thomas Skinner | 5 " " |
| Samuel Hawke | 4 " " |
| Kitty Philp | 1 " " |
| William Long | 3 " " |
| Thomas George | 3 " " |
| John Knight | 3 " " |
| John Prout | 6 " " |
| John Phillips | 5 " " |
| Humphry Cradock, mason | 6 " " |
| Thomas Brown, mason | 4 " " |
| John Long, husbandman | 4 " " |
| Mark Burton | 7 " " |
| John Tamlyn, seaman | 1 " " |
The inhabitants amuse themselves on Sundays by having one or other of those fatuous enthusiasts, the Bryanites to preach or, more properly, to rave nonsense.
That sage Luminary Abraham Bastard of Treligga in St. Teath preaching in the open air saw a person peep out of a window not far off and smile at some of his discourse. He exclaimed "Ah, you may laugh here, you may laugh here below, but take my word there will be no laughing in heaven."
Roscarrock. At latter end of 16th century this passed from the Roscarrocks through others to the Guys. The mansion house, though greatly altered, presents interesting specimen of domestic architecture of Henry VII. The building is a large pile of stone. The great door or entrance was on the West front enclosing a quadrangular court into which all windows faced and those strongly barricaded. The most part of North Quadrangle remains in its original state. The inside as originally build consisted of only one room in thickness and consequently there was no other communication round it but by passing through every room, every door having a wooden latch with a string, but the building has been greatly altered and modernised by the present owner who purchased it about 30 years since. Estate is tithe free with exception of keeping North Aisle of Endellion Church in repair. Near to the hose stood the chapel which when present owner came into possession was changed into a blacksmith's shop but since has been entirely demolished. Farmed by Mr. Mark Guy who married Jane Worden of Tresungers. Three sons, Mark, Warwick and Jonathan.
At the junction of the roads above Roscarrock Higher Town Gate (illustrated on page 28) stood in a grit stone pedestal, a square granite post on two sides of which were inscriptions in very old characters, now almost obliterated. This ancient stone has been thrown down and broken within these few years.
In August 1752 occurred the greatest hurricane ever remembered on this coast. The morning previous was most serene and delightful. The sea like a mirror. Great number of vessels in sight, quite becalmed, most of them from Bristol and Wales, when about 4 o'clock p.m. the sky began to be overcast and in an hour the gale was raging at its highest, wind veering about from N. to N.W. During this evening and night 14 or 15 vessels were driven inshore and wrecked between the Mold Island and Tintagel Head, and almost all crews perished. One poor fellow had most singular escape. His vessel, a Guernsey schooner, being driven along in pitch darkness, he was sent aloft to the four cross trees which he no sooner reached than the vessel struck against the rocks under Fox Hole at Roscarrock and he was thrown smack ashore on to a small green plot of grass where he lay stunned. When he recovered no sight or sound of his vessel was there. He scrambled up on the hill and seeing lights in Roscarrock got there safely. All on board perished and Mrs. Delimote, the Captain's wife, was shortly after found and buried in Endellion churchyard, where a handsome stone to her memory is still to be seen near the east corner of the north aisle.
Only one small French smuggling vessel rode out the gale and that was in Fearler (?) Sands.
A few years ago a man, Barns, placed on Roscarrock as hind by the owners the Boscowans, cut his throat in Fox Hole. His bones remained there until within these few years.
Trefreock. Passed to the Hamleys the last of whom was a barrister and who left two daughters. One married a Mr. Cock. The son and heir of this marriage possessed the property. He was a most desperate character, a warrant being out for him for some crime or other. When the constables went to put it into execution they were fired at and one was shot and died in the course of a few days. He was outlawed and eluded all capture for some time, always carrying pistols when he went out which he frequently did to Port Isaac in open day. He was taken by the following stratagem. Two or three brothers named Thomas, very resolute fellows, laid in wait for him one evening at Lower Bastwood? stile on his return from Port Isaac. At the stile they knocked him down with a stick and secured him. He was removed to London. He was hung at Tyburn. The property has been lately spent by his grandsons, Frederick and John Cock, in a very shameful manner and profligate and it was sold in 1826 to Mr. George, the present owner, for £6500.
The village of Trefreock of late years has decayed.
| | |
| --- | --- |
| John Hill, husbandman | 3 in family |
| William Kempthorne | 5 " " |
| Joan Prout | 1 " " |
| Walter Nichols | 2 " " |
| Phillip Kellow, farmer | 5 " " |
| John Thomas, husbandman | 3 " " |
| Robert Cowling | 3 " " |
Mr. Simons of Treglines St. Minver has property here purchased from the Cundy family.
Lower Trefreock. Purchased by Mr. George from the Cocks. Gave £3500. (In 1844 Dr. Mitchell of Bodmin).
Homer Park and Hockings. Purchased from the Cocks by Mr. Stephens who farms it.
Murcombe's Hill Tenement. Purchased from Mr. Charles Phillips from Cocks. Tenant John Phillips.
Comb's Tenement. bought by Richard Darley from Cocks for about £340.
Mill Tenement. A moiety to Cocks and Symons. On lease to Mr. Oliver of Egloshayle. Tenant Mr. Stephens.
Mines and Minerals
The most celebrated antimony mine in the Kingdom is situated at Trewethers. Worked at different periods for three centuries. The last party was Hallet Sibly & Co., who pocketed an immense sum as at that time it made £150 to £160 per ton, but since peace of 1815 has declined in consequence of East India Company importing it from Sumatra as dunnage. Discontinued working for some years past.
Rose Mine at Tresungers
Discovered while digging out badgers about 1809. Worked by Granville Kempthorne & Co. Granville being captain realised a vast sum while rest of adventurers lost considerably.
Mine opposite Polworgy Farmyard worked by Captain Glanville. A few men employed for last 5 or 6 years. Now stopped.
Captain Glanville resides at Trewethers having expended all his money an in ill health. A deep decline.
Sweetheart Mine
This antimony mine of Trewethert taken a few years since by a company from London, a Mr. Yates (father of the celebrated stage player Yates of the Coburg Theatre, London). Ore of trifling quantity and quality.
Quarry of slate worked on cliff in Tregavern by a party from Wales and many cargoes sent. Since worked
by W. Hambly of Port Isaac. Answers well for flooring and coverings of houses etc.
Wrecks
| | |
| --- | --- |
| 1806 | Sloop Harmony of Southampton from Plymouth to Swansea in ballast drove ashore into Porth Karnhun in N.W. gale. Got off though damaged. |
| 1807 | Schooner Betsy of Plymouth from Plymouth to Wales in ballast. The villain of a Master ran her ashore at Crowser Roscarrock. The Master's son, lad of 14, drowned. |
| 1807 | Sloop ........... Captain Johns of Fowey. From Fowey for Neath in ballast. Caught in tremendous gale. Struck on Warrant Rock within entrance to Port Isaac. All perished. Captain John's body only one recovered. |
| 1807 | Same afternoon the Polperro of Looe in ballast for Wales made for Port Isaac and got in at low water. A boat immediately launched to assist her which was overturned and Thomas Strout of Port Isaac was drowned. Vessel afterwards repaired. |
| 1807 | Brig Newry of London. Captain Charles Robinson. From Cork to London laden with butter etc. Foundered 14 miles of Port Isaac in a hurricane. All on board perished. 2000 barrels of butter were taken up. Many shared from £60 to £70 each as salvage with which large herring boats bought for fishing. |
| 1808 | Brig Myrtle of Lancaster. Captain Harper. From Liverpool to London with palm oil. Run onshore by night in a tempestious gale – N.W.– into Gilson Cavern. All perished. |
| 1808 | Brig Integrity of Swansea in ballast from Falmouth to Wales. Run into Porth Karnhun. Damaged but got off. |
| 1810 | Sloop Cardigan of Carmarthen. From Bristol to Falmouth. Laden with sundry merchandise. Ran into Port Isaac in gale. Damaged but repaired. |
| 1811 | Sloop Twobrothers of Dartmouth with coals foundered off coast. All perished. |
| 1811 | Sloop Brothers of Yaughall. From thence to London with butter vats ran into Port Isaac. Damaged vessel repaired. |
| 1812 | Sloop Danial of St Ives in ballast wrecked in Port Isaac bay. Crew saved. |
| 1814 | Schooner Dolphin. Trifling damage. |
| 1814 | Brig Betsy of Liverpool to Portsmouth with salt foundered. All on board (5) perished. |
| 1815 | Sloop Concord of Swansea with coals for St. Ives foundered. All crew perished. |
| 1816 | Sloop Fortune of Truro for Swansea with copper ore foundered. Crew of 4 perished. |
| 1816 | Dutch Gallion to Jacob of Amsterdam from Spain with wool. Run on shore in Port Quin. All crew perished. Cargo washed ashore. Several boxes of dollars aboard, quantities of them afterwards being taken up. |
| 1816 | Schooner Adventure of Padstow from Wales for Padstow laden with coals. Foundered. Crew saved. |
| 1819 | Brig Aurora of Teignmouth from Labrador to Teignmouth with cod oil, seal skins etc. Driven in by furious storm at high water. Cargo discharged and reshipped on four small vessels. Very little damage. |
| 1821 | French Schooner Adolpe of Nantes from Swansea for France with tinplate iron put into Port Isaac water-logged. The vessel was cut adrift by evil-disposed person and beat to pieces on the beach. The crew enlivened the place by their cheerful good humour and dancing through the streets with the girls. |
| 1821 | Sloop Theodore of Yaughall. Captain Timothy Daisy from Yaughall for Plymouth with potatoes. Vessel seen dismasted. Boarded with difficulty by boat from Port Isaac. Saw no one on deck but heard violin below. The Pats were enjoying themselves it being St. Patrick's Day to whose guidance, of course, they entrusted the vessel. They had entrusted the helm to a boy the day before and he had jibbed her and carried away the mast. The boat people with difficulty got her into Port Isaac after being at it all night. The potatoes were sold at Port Isaac and Padstow and off they went for dear Ireland. Crew exceedingly dirty – great quantity of lice. The Captain would put his hand into his bosom, take one out and address it saying "Ach, dear honey, I wish you and I were in Dublin" and then replace it. |
| 1821 | Portuguese Schooner Courrier of the Azores from Tucarra to Havre with oranges. Driven in with wind at N.W. After a survey not thought trustworthy. Was broken up. A beatiful model. |
| 1822 | Dutch ship Elizabeth Joanna of Rotterdam from Batavia for Holland with coffee, camphor, foundered ¼ mile off the points Port Isaac. Got water-logged carrying too great a press of canvas. Had young Dutch officers on board who put canvas on her as on a man-of-war. Fired signal guns day and night. Gig put off and went on board but hopeless to save. Dutch officers drew swords and prevented Port Isaac men leaving as they were fresh men and crew worn out with pumping. More boats signalled for. It blowing a gale at S. with tremendous ground sea could not take her into Port Quin before she foundered with two Dutchmen too fatigued to be removed in time. A Dutchman and luggage being sent ashore in the dark neither arrived though the crew got safely in. The Dutchman and luggage were condidled by these villains. |
| | Another instance. An officer coming on shore in a boat with John Arnold, Richard Caesar Cock and Pascoe Carter, as soon as the boat landed they snatched a portable desk (belonging to an officer who had died in India, which was being brought to his widow in Holland) and made off with it. The desk, the officer said, contained 200 to 300 doubloons, gold watch and other valuables. The desk was recovered. None of delinquents ever brought to punishment. A boat load of the crew had got off before the Port Isaac gig reached the vessel and going up the coast struck rocks at St. Ginnis and perished. |
| 1824 | Harmony of Watchet. Crew came in Port Isaac in a tug boat, the vessel having foundered 10-12 leagues westward. |
| 1825 | Courier de Naples Tomo Cacase Master. 250 tons from Palermo to Antwerp stranded at Port Isaac laden with shennac, brimstone, olive oil, licorice and fruit. Cargo warehoused in Industry Cellars. |
| 1833 | Ebenezer 31 August. Gale N.W. Captain Radford of Bristol from St Vincent to Bristol with sugar and rum. Ran on to sands opposite old West Quay. She broke up and the cove was strewed with wreck. |
---
The Index of Names created for the hard copy edition of The History is replaced online with a genealogical database, Inhabitants of St. Endellion Parish
---