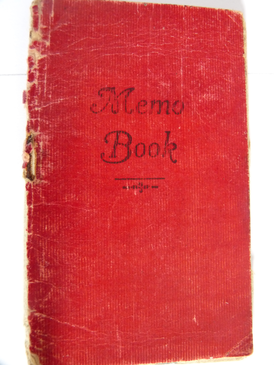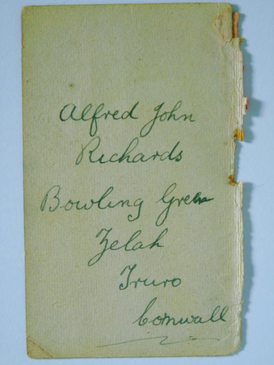 This notebook was kept by my late father, Alfred John Richards (AJR), during his military service with the RAF. It measures 2 5⁄8 × 4 3⁄16 inches (65 × 106 mm) and contains 22 feint ruled leaves. The back cover is missing.
Besides the diary transcribed below, there are pages with poetry (not original, I believe), reference information, comrades' addresses and random notes.
The diary covers the time between his enlistment and December 1943. During this time he served with No 1 Armoured Car Company RAF (later incorporated into the RAF Regiment).
It begins on the back page, and is continued backwards through the notebook. The pages below are re-arranged into chronological order. Click on the page images for the full-size photographs, which are 3-4MB in size.
In the transcript, the editor's notes and queries appear between square brackets, [ ]. Sometimes abbreviations are expanded with the added material in italics. The transcript is a work-in-progress, since many of the placenames are difficult to read and/or very abbreviated. If you have any comments, corrections or otherwise wish to get in touch, please send email to jonathan[at]orlopdeck[dot]net.
---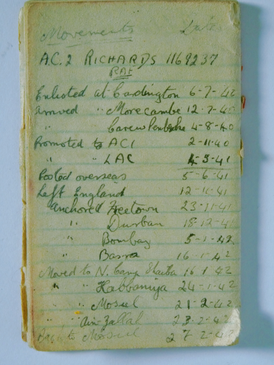 Movements
Dates
A.C.2 RICHARDS 1169237
RAF


Enlisted at Cardington1
6-7-40
Arrived at Morecambe2
12-7-40
Arrived at Carew3 Pembroke
4-8-40
Promoted to AC1
2-11-40
Promoted to LAC
4-5-41
Posted overseas
5-6-41
Left England4
12-11-41
Anchored Freetown
23-11-41
Anchored Durban
18-12-41
Anchored Bombay
5-1-42
Anchored Basra [=Basrah]5
16-1-42
Moved to N Camp Shaiba6
16-1-42
Moved to Habbaniya
24-1-42
Moved to Mosul
21-2-42
Moved to Ain-Zallah
23-2-42
Back to Mosul
27-2-42
Footnotes:


1. RAF Cardington, Bedfordshire, was one of the centres for enlistment of men in ground trades. AJR wanted to train to fly, but related that the RAF wanted skilled mechanics more than they wanted pilots.

2. No 9 School of Technical Training Morecambe opened in November 1939, training flight mechanics and riggers, and closed 17 May 1942. Ref A

3. Carew Cheriton (Milton), Pembroke.
RAF Carew Cheriton was built in 1938 on the site of the WW1 RAF Pembroke, initially equipped with grass runways. The airfield was used as a support base for the flying boat operations at Pembroke Dock. Based here was 'B' Flight 1 A.A.C.U. and 595 Squadron Target Towing Flight, equipped with Hawker Henleys. On 15 April 1941 12 airmen were killed in an air raid which hit the sick bay. From 1939 to 1942 the Coastal Command Squadrons - 217, 48, 320, 321, 236, 248, 254, 500 flew patrols from Carew over the Western Approaches, raids along the French coast, the escort of the Irish mail steamer and also Douglas DC-3 passenger services. Also between 1940 to 1941 the Coastal Command Development Unit was based here, and carried out trials of a new airborne radar equipment. Ref B

4. From the dates which follow, it appears that AJR was aboard Convoy WS 12Z. Ref H. This was made up of 15 ships, 9 loaded at Liverpool and 6 loaded at Clyde. For voyage chart see Ref C. This divided, and he proceeded with WS12ZB to Bombay. Ref D

. Only four of the Liverpool ships (assuming AJR shipped aboard in Liverpool) were in WS 12ZB, viz. ADRASTUS, CAPETOWN CASTLE, DUCHESS OF BEDFORD, and EMPIRE STAR.

5. Convoy BP 31(A) sailed from Bombay to Basrah, unescorted by the Royal Navy, although HHMS GEORGIOS AVEROFF departed Bombay 9th January to give cover. The ships of this convoy arrived in Basra between 14th and 17th January, with the INDRAPOERA (for description, see Ref E) arriving on the 16th, with 1192 troops and stores. Ref F. INDRAPOERA had joined WS 12Z at Durban; I infer that AJR's unit trans-shipped either in Durban, or in Bombay.

6. i.e. Shaibah, also written Shu'aiba in contemporary documents.
RAF Shaibah lay in the desert 13 miles away [SW] from Basrah and was renowned for the harshness of climate and primitive, isolated facilities. Ref G
---
Contd. from back pages
Movements
Dates
Notes
Return to Habbaniya
1st week June 42


Flew to Cairo
1st week Aug 42
19 days in Cairo IOA over, return to Main [illegible]
Return to Habbaniya
Aug 42


Recco to Teheran
Sept 42
12 days trip through Hamadan ?Kunansha [=Kermanshah?] ?Kasvine [=Kazvin] down through Qum Sultanabad Kurumabad Ahawas [=Ahwaz] to Shiaba [=Shu'aiba] up main track
Moved to Mosul
end Oct 42
admtd SSQ Jaundice (3 weeks in bed)
Escort 237 Wing to Teheran
2? Nov 42
Took Intrepid Tigris & Harvester up Pytec [Paitak] Pass for first time in ACC history
Return to Mosul
18 0116 Dec
via South road up & back
Bread Riots Teheran
Xmas at Mosul
Tip top feed plenty of beer. Drunk Xmas Day in evening






Took trade test 23rd dec AC1 FMI 73%
Footnotes:

---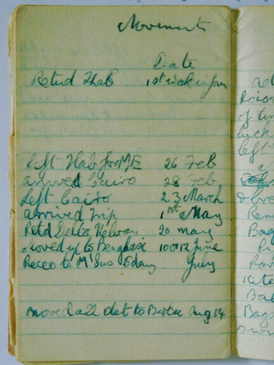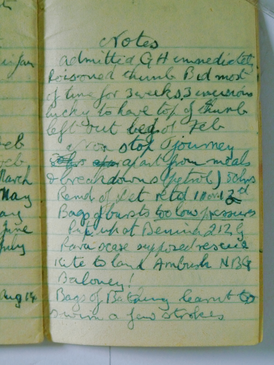 Movements
Date
Notes
Retnd Habbaniya
1st week in Jan [1943]
Admitted GH immediately Poisoned thumb. Bed most of time for 3 weeks, 3 incisions, lucky to have top of thumb left. out bed of Feb [sic]
Left Hab for ME
26 Feb
Non stop journey apart from meals & breakdowns (petrol) 50 hrs
Arrived Cairo
28 Feb


Left Cairo
23 March


Arrived Tripoli
1st May
Remd of Det retd 11 or 12th
Retd Delta Helwan
20 May
Bags of bursts too low pressures
Moved up to Benghasi
1000 12 June
Put up at Benina 212 G
Recco to M'Sus 5 [?15] day
July
Para scare supposed rescue Kite to land Ambush NBG [= No Bloody Good]
Baloney!7
Moved all det to Barca
Aug 14
Bags of Bathing learnt to swim a few strokes
Footnotes:

7. This was an attempt to disable a plane that was being sent to pick up some Italian parachutists that had been dropped to carry out sabotage work on the RAF and USAAF aircraft in the area. Unfortunately the plane flew over Msus but it didn't land, despite the RAF Armoured Car officer firing the required red Very light, and they weren't able to capture the aircraft and crew. The plan was to get the plane to land and then an RAF officer was going to shoot its tyres out with his revolver thus preventing it taking off. The armoured cars would then do the rest. Ref I
---
Movements


Sep 17 or 18
Took LAC Board passed 82%
Retd to Deta
abt Sept 23rd
Put in at Helwan
Moved to Cairo West next day. Took Chev tourer 200 miles with wood block for front spring
Work Shops recamfd.[?] Oct 4 & 5th
Left Cairo West
Dec 10th
11.30 hrs
Did Guards before leaving on kites carrying big cheeses to Mena Conference
Arrived Ismalia at dusk
Dec 10


Left next morning at 7 & made Asluy [?] 2
Dec 11


Broke camp 6.30 and made camp 30 miles short of Mafrak 2000 hrs
Dec 12


Footnotes:

---
Movements
Broke camp 7.00 hrs and made H4
Dec 13


Arrived Habbaniya
Dec 14
13.30
Took over old Cars[?] billet
Parked vehicles in yard & did inspections ready to move off
---
References:
A: http://www.lancasterwarmemorials.org.uk/essays/e26.htm
B: http://www.pembrokeshire-war-memorial.co.uk/page79.htm
C: Convoy WS 12Z course UK to Indian Ocean http://www.convoyweb.org.uk/chart/ws12z.html
D: http://www.convoyweb.org.uk/ws/ws12.php?convoy=12_3
E: http://www.derbysulzers.com/shipindrapoera.html
F: Admiralty War Diaries http://www.naval-history.net/xDKWD-EF1942.htm
G: http://www.habbaniya.org/ShaibahBasrah.html
H: Text http://www.naval-history.net/xAH-WSConvoys04-1941B.htm
I: Personal communication 18 December 2012 from Dr Nigel W.M. Warwick, Corps Historian RAF Regiment